A General Outlook of Positive Singles

Positive Singles is a type of online dating platform developed with single people living with Sexually Transmitted Diseases (STDs) in mind. From those diagnosed with Human Papilloma Virus (HPV) to those with Herpes, the online dating site's doors are open to such individuals looking for emotional anchors to help them deal with their conditions.
Numerous reports on Positive Singles reviews show that the dating platform is stocked with features and tools that are tailored to assist new subscribers find new partners or even spouses through its vast online dating network. In addition to this, it helps in supporting members living with STDs by giving them access to friends to lean on as well as creating forums for sharing medical information about their conditions.
Do you think that a site with such an extensive resume exists, or is it just another website designed to siphon money from unsuspecting people? Why don't you join us in the Positive Singles review below as we address all your concerns?
Is Positive Singles a Legit Dating Site or Is It Just Another Scam?
Positive Singles has, for years, been popular in the online dating world for the validity of the services it provides and for being one of the pioneers in the provision of romantic assistance to people living with STDs. Given that the dating site has been on the map for over 15 years now and with an ever-increasing membership, we can safely state that it doesn't qualify to be called a scam.
What is the Structure of The Dating Site's Members?

Positive Single reviews show that the site has more than 1 million registered accounts since it was founded in 2001. The dating site reports of over 8,000 of these accounts are active daily with the messages shared between its members being over 100,000. The dating site's users are distributed worldwide, with the majority coming from the USA (over 120,000 members). Males, at 65%, have been shown to form the most significant percentage of Positive Singles subscribers as compared to females at 35%.
Sexual Orientation
The dating site is renowned for the equal opportunities it presents for people living with STDs to access its services regardless of their sexual orientation. With such open-mindedness being fostered in the dating site, its subscriber numbers increase by the day due to the "safe environment" it provides.
Age Distribution
As we've seen in the Positive Singles review above, the site is specially made for those living with STDs. With this in mind, it is only understandable that most of its users are within their sexually active or productive years. Having said this, out of the one million-plus members, 90% of them fall between the 18 and 50 age bracket.
All You Need to Know about the Platform's Registration Process

The registration process on Positive Singles is easy to follow and could even take you less than five minutes. After going to the Positive Singles website, you need to fill in details about your sexual orientation and your sexual preference of the people you want to link up with. In addition to this first page, you need to submit details of the STD you have been diagnosed with.
Upon finishing this, the sign-up process proceeds by the system asking you to come up with a password for logging into the site, a username of your choice, and your email address. Afterward, you will be required to key in some of your data, e.g., location, weight, and race, and then move to upload a picture for your profile photo.
After completing all these steps, you will be directed to the last section of your registration, where you will need to answer 3 questions that will contribute to your profile page. Once you're done, you will be taken to the site's homepage, where you can start using the platform. Can registration get any simpler than this?
How Is the Site's Profile Creation Process?

Positive Single profiles are quite extensive and have been tailored to allow other users to get a good idea of what a person is all about before engaging them for a potential hook-up. So, the big question arises. How is the process of profile creation like in Positive Singles?
Most Positive Singles reviews show that users start setting up their profiles on the "Profile Section." Here, a user can add pictures and manage the content displayed to other Positive Single members, e.g., their lifestyle preferences, hobbies, and favorite band, among others. In addition to this, your profile will house some of the details that you keyed in during the registration process, such as your educational background and the qualities you're looking for in a partner.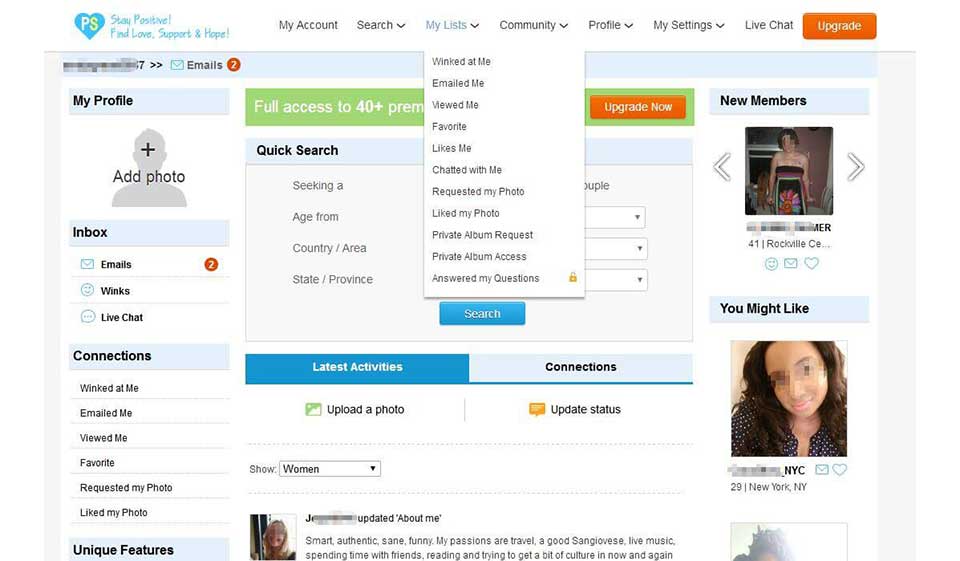 Positive Singles subscribers can get to link up with each other through searching through the various categories laid out for them by the dating site. The moment a user finds a person they have fallen for, he/she can contact them using several ways, with the most common ones being direct messages and emails. In addition to this, the online dating site has a vibrant homepage that enables users to check out activities taking place in the platform, e.g., status updates of subscribers in their favorites list and the new members within a user's country.
The online dating site boasts of around 3 primary search fields that refine the search results based on potential suitors' usernames, how fast and how advanced a user wants the search results. Once a user gets the search results, the dating platforms allow them to view the person's online status, hence giving them a chance to send the subscriber a wink, leading to direct messaging. Also, for those with paid subscriptions, there are additional search parameters that enable you to find and connect with other Positive Single users based on their type of STD or length of stay in the online dating site.
Platform for Use
Positive Singles is keen on helping people living with STDs find love, and due to this, it created free platforms for use to assist such people in connecting. The leading platforms used in the site are the website and app versions.
The Dating Platform's Website Version
The online dating site's website is quite straightforward and convenient to use. It contains a Positive Singles user profile and has a search engine that enables users to narrow down to their most suitable matches. The homepage also includes all the chat and emailing features needed to communicate with other subscribers, making the primary goal of the dating site easy to achieve.
In addition to the above, users' privacy tools such as the blocking feature are within easy reach. Finally, a small section highlights some of the critical data figures concerning a user's profile and their interactions on Positive Singles.
App
As mentioned earlier, the second mode of operation of Positive Singles subscribers is through the dating platform's mobile app. The app is found in both Google Play Store and the Apple App store, and despite not being the top dating app, it has some of the most remarkable user-reviews. From the tool kits to the theme design and color, the app has been packed with most of the features found on the website. With easy-to-use functions tailored for mobile devices, it is quite easy for subscribers from all walks of life to navigate the Positive Singles app.
Design and Usability
This dating site has an exceptional interface that is appealing to the eye and is easy to use. The more significant percentage of the most crucial features are well fitted in the homepage, hence allowing users to access everything they need. It has numerous sections, e.g., blogs that could bewilder users, but once you're used to the whole setup, you'll have no problem filtering what you need to use from what is irrelevant.
Navigation on the Site
As we have already seen, the online dating site is quite convenient to use as most of its functions are within subscribers' reach. From the website version to the app, you shouldn't expect any challenges are getting by with Positive Singles' platforms. The only small concern that could arise is the text size of the content in the website version, which could be tiny for some pc users.
What Are the Costs of Positive Singles Services?
Positive Singles provides both free and paid for premium services. Creating an account with the dating site is free, but you'll need to pay for a premium package to access some of the site's unique features. The costs of the packages offered vary according to the length of their validity, but the general price range is between $30 per month to $100 paid half-yearly.
Below is a brief exposition of some of the services you will have access to as a free subscriber compared to a paid member.
What Are the Differences between Free and Premium Services in the Dating Site?
Once you've registered for an account with Positive Singles, it starts automatically in the free membership category. At this level, you can access services such as replying to direct messages, uploading pictures, and even sending winks. For you to enjoy premium services such as initiating direct messages (free members are restricted to replying alone), hiding your profile, and using some of the platform's unique features, you have to purchase a premium package.
How to Pay
The process of payment is quite direct and typically takes users about 3 minutes. Positive Single members have to choose the services they want to pay for and then go to the "make payment" option. The users then have to select their preferred means of payment, and after doing so, they'll be prompted to go to this service's page and authorize for the release of funds. For instance, if a user wants to pay for a $30 monthly premium subscription using PayPal, he/she will be taken to their PayPal homepage and asked to allow the service to credit $30 to Positive Singles.
What Are the Modes of Payment Supported by the Dating Site?
The dating site has invested a lot in setting up the most convenient payment platforms to avoid locking out potential subscribers based on them lacking suitable payment methods. The common modes of payment used in Positive Singles include PayPal, credit cards, and cheques.
Safety & Security
This online dating site is regarded as a fortress of internet security by many Positive Single reviews. The reason for such views is that it has gone to great lengths to encrypting all the personal data of its members to prevent data breaches during online transmissions. The company is living up to its end of the bargain from updating its security protocols to using the anti-malware software as listed in its Privacy Policies section.
In addition to the above, Positive Single has strict verification procedures that strive to ensure that there is no personification of its members or even scammers posing as members. With meticulous administrative staff monitoring the dating site's registered accounts, any illegal practices among its subscribers are bound to be flashed out, with the users getting kicked out of the website.
Are There Scams Linked to The Dating Site?

The dating site has never been in the headlines for being linked with any forms of scams that have riddled the world of online dating. This is owed to the fool-proof security systems and protocols used by the dating site's management since it was founded over a decade ago.
What Are the Dating Site's Special Features?
Here are some of the unique features that Positive Singles is popular for;
1st Date Ideas – This is a section in a subscriber's profile that allows potential partners to view some aspects of a member's personality. Typically, the details found here include answers to questions like, "What is your idea of the perfect 1st date?" When a user checks out your response to such a question, he/she can tell whether you're a suitable match.
Let's Meet – This feature functions like a game where you are provided with a set of Positive Singles profiles. You can then decide the profiles that impress you and those that don't by swiping your screen to the right for the former and swiping it to the left for the latter.
The Positive Singles Review Conclusion
As we've seen in this Positive Singles review, this online dating site is doing an exceptional job of providing a shoulder to lean on for people living with STDs. The dating site offers a warm platform for them to find love while also encouraging them to learn more about how to have great lives, even with their conditions. The online dating site is fully-packed with innovative connectivity features as well as interactive platforms for its users, such as blogs. In addition to this, the dating site has a great app that users can utilize to search for potential partners and set updates while on the go.
Positive Singles is free and open to all but will require you to part with some cash to access its numerous premium tools. In general, this dating site is definitely at the top of the industry's pecking order. It is highly recommended that anyone looking for a dating site would help them find love and comfort without stigmatizing their STD diagnosis.
Try it out and be sure to let us know about your experiences in the comments!